A popular saying, right. But it boils down to the fact you can use the Web in three distinct ways. Either you search for something, or you directly access websites you know and like, or, finally, you use a program that can display all that fine remote content on your computer without wandering around. That's what RSS is all about. Enter Liferea.
True, I'm cheating. Pulling RSS feeds and web pages from the Internet is no different than using a browser, but if a program does that in an integral way, allowing you to preview content but also enjoy the full plethora of text, images, audio, and video for a given subset of domains, then it is doing something else. It's bringing you the closely guarded corner of the Web you consider yours. One of the programs that promises this functionality is Liferea, a news aggregator for Linux.
Liferea, how do you pronounce it?
As I was testing the software, I wondered what the correct way of saying the program name is. Life-rea? Lay-fearea? Anyhow, this lightweight, elegant little tool is designed to be your ultimate RSS reader. It comes with a tabbed internal browser interface, which lets you enjoy feed articles, decent security and privacy, plugins, and most importantly, it supports all the scripting and media you can expect to find on a typical Web page.
I have mentioned and praised the utility in my non-KDE non-Gnome guide to Linux apps, but now we need to explore in further detail. The installation is trivial, as the software is available in pretty much every major distro repo. When you launch it the first time, the program will update its default set of about two dozen feeds, including the likes of Arstechnica, Slashdot, BBC, Planet GNOME, xkcd, and several others. Adding new feeds is a breeze, including an auto-discovery feature. You can also quite easily search for keywords, so if you have tons of feeds, you won't get lost.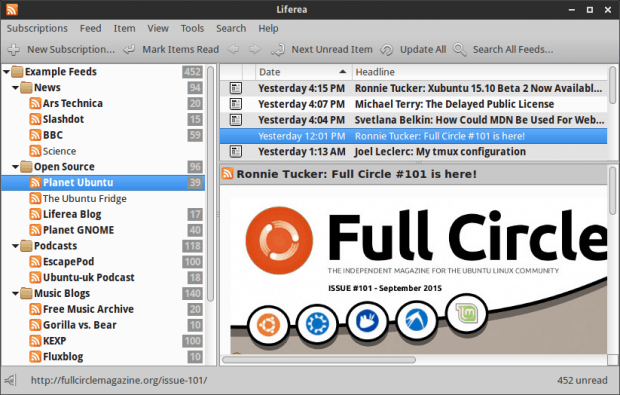 You can preview the items, and if you double-click, they will open in a separate tab. Like any real browser. This worked well, to some extent. With the sidebar taking roughly 20% of the screen equity, some websites may overflow horizontally, making them tricky to read. Moreover, I struggled with embedded Youtube videos, as the service deliberately disables remote play for embedded code in order to lure you back to their site. Watching from afar, you are not exposed to any advertisement, you cannot be influenced, and this is entirely the company's loss. But it makes a seamless Liferea experience slightly more difficult.
Privacy and security
If you're worried about browser exploits, Liferea lets you disable Javascript, which will ultimate break some functionality. If this is a problem, you can always use an external browser. Moreover, later editions of the software come with privacy tweaks, however that one wasn't available for Xubuntu Vivid. Released in May 2015, the distro precedes the do-not-track addition to Liferea in July. It would be nice to see an alignment of versions, or at the very least, make sure the RSS updates reflect the existing capabilities in the software. Otherwise, it's just confusing, as users may search for preferences that are not present in their current edition.
Other things
The program comes with a healthy preferences menu, where you can tweak lots of options, including the aforementioned security. I also found the plugins systems to be interesting. However, at the moment, there does not seem to be any way to add new plugins and enhance the basic functionality. Maybe this is a test feature and a placeholder for making Liferea even more extensible and useful in the future? Not a bad concept, but I'm wondering what else a news reader could do. Pull tweets? Social network updates? Something else entirely?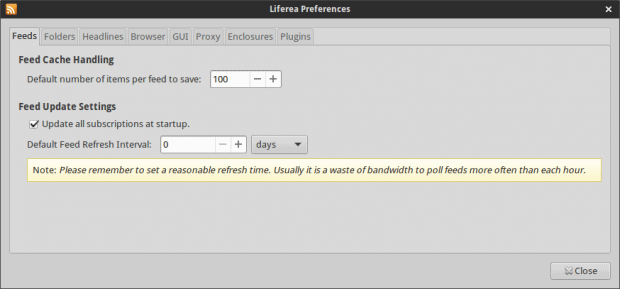 Conclusion
Liferea is a neat program. It works well, it's stable, fast enough, and it does not stutter or crash even when running numerous tabs and loading info from dozens of feeds. I can't say how it behaves when you into thousands, though. The interface is simple enough. The ability to play rich media is also very useful, but there are some limitations. Which is why it works well, most of the time.
And so we come to the end of the third way of using the Web – with Liferea. Not bad, as it gives you the peace of mind and quiet in the largely info-overloaded, overcrowded, distraction-saturated Internet. Many programs offer the same functionality, but somehow, Liferea does it almost effortlessly, and that's the magic with any successful software. If you like to collate all your data into a single channel and sample it on your own, away from the public humdrum, you might want to take Liferea for a spin. It could give you a fresh breath of Internet. Take care.
---