Linux has yet to achieve a significant piece of the PC market, unlike what it has done in the mobile space. So the question is why doesn't it happen in the PC industry?
Some people argue that Linux is too hard, or that it doesn't have all the apps people need or all the games or what have you, they will quickly point out that there's no Photoshop, or Premiere, or Skyrim.
But is that true? Is that the reason? That seems unlikely considering how small is the percentage of users that actually care about any of those apps, for the vast majority of the people Linux has all the apps they could ever need, this is a fact supported by all statistics and by the growth of the tablet market that obviously lacks any of those apps.
I know what some people think: There's no Microsoft Office. To them I say there's LibreOffice, and there's Google Docs, and there's even Office Live, and these native and web apps certainly cover all the features most people care about.
Is Linux hard? Well Linux is just a Kernel but I don't think most people find Netrunner, or Ubuntu, or Mint particularly hard to use, at the end of the day most people spend the vast majority of their time in the browser, and there's a high probability that the browser will be the same across platforms (my personal choice, without a doubt, is Google Chrome).
What Linux lacks is a fundamental Go-To-Market strategy.
As much as some wish PCs were sold without an operating system, a geek dream that will never come true,  the only way to enter the market is by gaining the support of OEMs. Linux will never move beyond the 1% it has been stuck with for years unless it finds a way to get OEMs on board.
Why aren't OEMs on board? Because there's demand for PCs with Windows, and to some extent for Apple's PCs, while the demand for PCs with Linux is negligible. OEMs would love to stop paying for licences to Microsoft or any other company if they could, they just can't because there's no demand for non-Windows PCs.  And why is there no demand? Because people don't know Linux and since is not that different from Windows (from the end user perspective) there aren't many ways to provoke demand.
So it's not a technological a problem, is not a problem with Linux being hard, or not having apps, or not being pretty enough, or fast enough, it's a problem with entering the battlefield, Linux has an army but no way to deploy it.
So how do we break this cycle? Canonical has an idea that with a little bit of luck could work.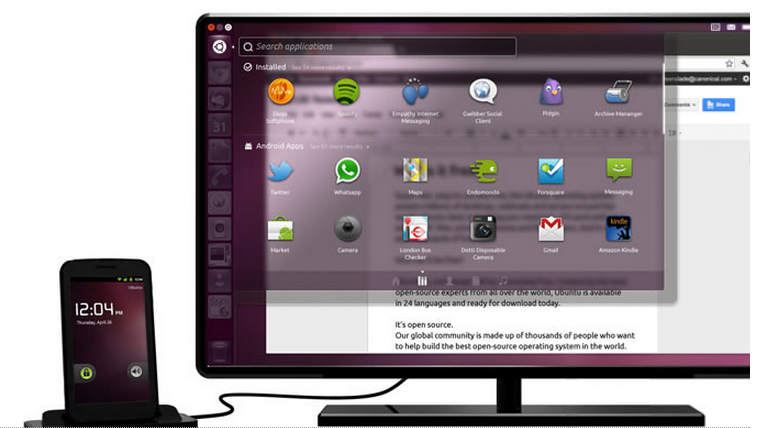 Ubuntu for Android 
Instead of finding a way to create demand for Linux directly in the PC market, something almost impossible to do without making some great leap forward in the end user experience, Canonical wants to use the mobile success of Linux in the form of Android to push Linux in the PC market indirectly by offering a modern mobile feature that makes the desktop nothing more than a feature of your smartphone.
If Canonical manages to convince some OEMs to include this feature, and I think they can because it's a truly remarkable feature, Ubuntu and Linux will no longer compete with PCs bundled with Microsoft Windows instead they will compete against pretty much nobody, because Microsoft doesn't offer any such feature and nor does any of the competition. Indeed, the bundle of Android + Ubuntu would detract from Microsoft's market share without competing directly with PCs with Windows (instead, for many users, it would render Microsoft Windows redundant). And could, again if it manages to convince smartphone OEMs, change the landscape of the PC market entirely.
There's very little for most users to lose by switching to Ubuntu for Android and a lot to win. In other words, making the desktop just a feature of a smartphone could be the killer feature of Ubuntu's desktop operating system.
The only way to fix Ubuntu's #1 bug is to find new ways to enter the desktop market and by partially transforming the desktop market in a sub section of the smartphone and tablet market Canonical could take away from Microsoft all of its relevant advantages in the desktop, while gaining the incommensurable advantage of fitting in a pocket, but more importantly end users will get used to Linux and the barrier for PC OEMs will be lifted.
[sharedaddy]